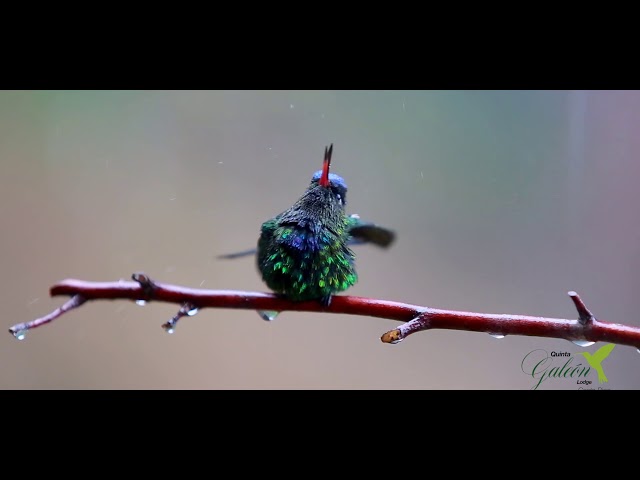 What is the Hummingbird Experience?
Quinta GALEON Lodge is home to The Hummingbird Experience / La Ruta del Colibrí – LRC ™, an in-depth, one of a kind, beautiful, and unparalleled learning experience, a 4+-hour activity full of interactions with hummingbirds, led by a specialized Spanish / English bilingual nature and hummingbird expert guide on site.
You will have fun and enjoy learning about hummingbirds of Costa Rica and the world. You will be able to spot a minimum of 10 to 15+ species on any given day of the year, -something that you can hardly replicate in any other place in the world-, plus enjoy all the comforts, gastronomy and hospitality services offered by Quinta GALEON Lodge.
With 24+ different hummingbird species photographed at Quinta GALEON Lodge out of 52 species of hummingbirds registered in Costa Rica, The Hummingbird Experience offers you the possibility to observe the largest hummingbird in Central America, North America and the Caribbean and probably the 2nd and 3rd smallest hummingbirds in the world.
The activity will also include a beautiful and creatively designed presentation on hummingbirds facts and knowledge, photos from all species you might enjoy at Quinta GALEON Lodge, ample time for you to enjoy the place, the views, to photograph and video lots of the most beautiful hummingbirds, plus 2 delicious meal servings, a coffee break and lunch, all included in the price.
Whether you are one of those famous photographers that love to come to our place or simply a nature-lover looking for a unique experience and just carrying your cell phone with you, you won´t have to risk or venture yourself or your basic to sophisticated photographic equipment into any steep or slippery forests or demanding terrains chasing hummingbirds… Instead, the hummingbirds will come to you!
Come and enjoy this unique experience with us, almost "without having to move" from your chair, 365+ days a year!  A great and unparalleled experience you will treasure for the rest of your life.
SPECIAL NOTE FOR TRAVEL AGENCIES & TOUR OPERATORS AND PRIVATE TRAVELERS
Because of its strategic location,  in the Costa Rican mountain destinations market, we invite you to consider Quinta GALEON Lodge as a key lodging destination or a half day logistic stop, if your travel plans or itinerary find you on the way or back from San Gerardo de Dota and or other Central/South Pacific locations.
This is a great destination, ideal for families, small groups, & individual travelers, mountain and avitourism lovers, those looking for zero-stress vacations, relaxation, great birding & photography opportunities, at a lodge that specialize in hosting and assisting the finest and very private groups of visitors.  Here to help you, in any way we can.
If you have inquiries, please contact us vía this link.