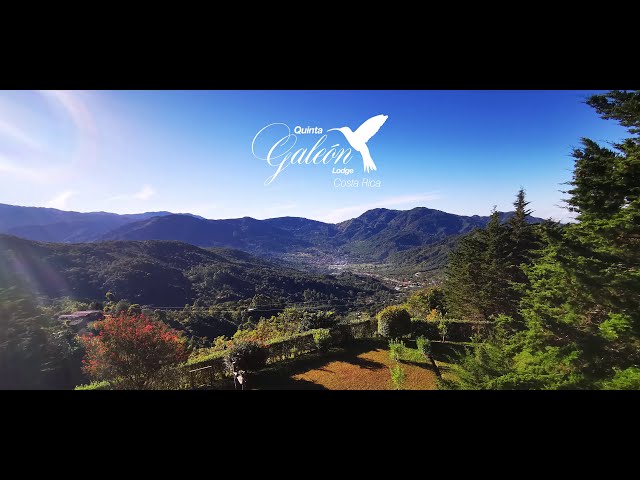 Quinta GALEON Lodge
YOUR HOME AWAY FROM HOME
Quinta GALEON Lodge / Costa Rica, is a beautiful, very private, family-owned boutique mountain lodge, a prime, attractive and distinctive quality tourist destination located in the highlands of Costa Rica, at 2050 msnm (6700 fasl), some 60 km from San José, on the way to the Coffee Valley of Santa María de Dota, next to Los Quetzales National Park, on the majestic mountains of Talamanca.
ONE OF THE TOP PLACES IN THE WORLD TO ENJOY & PHOTOGRAPH HUMMINGBIRDS!
Birding Photography Paradise
Located just 60 Km from the capital of Costa Rica, San José, Quinta GALEON Lodge sits at 2050 m (6700 fasl) and it is like a convergence point in the Talamanca Highlands with great closeness to the Central Valley, Dota & The Saints Area, the Continental Divide of the top Caribbean and Pacific mountains, The Páramo, The Cerro de La Muerte and Los Quetzales National Park and Tapantí National Park.
TAILORMADE SPECIAL FOR AGES 3 TO 93
The Hummingbird Experience
Quinta GALEON Lodge is home to The Hummingbird Experience / La Ruta del Colibrí – LRC ™, an in-depth, one of a kind, beautiful, and unparalleled learning experience, a 4+-hour activity full of interactions with hummingbirds, led by a specialized Spanish / English bilingual guide on site.
Rural Tourism & Rural Community Tourism
Our business proposition and objective as a distinctive Small Hotel and Experiences Operating business in the Dota & Zona de Los Santos and The Talamanca Highlands of Costa Rica, is to become, not just one of your preferred destinations and tourist services provider, but also a partner of your decisive sustainable tourist footprint in the area.
Our new travelers are now looking for the most sustainable traveling options, also for places that are COVID safe or present a very low risk of COVID cases, as well as exciting and pace relaxing communities that can really offer them experiential workshops, relaxed and connecting experiences.
They have in many instances, a clear preference for rural environments, and furthermore, are in search of unique experiences and visiting places that will allow them to support the local employment and benefit rural communities with the proceeds they will leave behind with their more conscious tourism.